INTRODUCTION The advent of multidirectional real-time video streaming opens a new chapter in consumer marketing with support for a much simpler, better performing approach to targeted advertising and a much broader palette of personalized promotional techniques. Ad targeting has already become a driving force behind monetization of live-streamed video services. And marketers are finding ever… Continue reading XDN Makes Targeted Advertising A Unique, Interactive Experience
INTRODUCTION
The advent of multidirectional real-time video streaming opens a new chapter in consumer marketing with support for a much simpler, better performing approach to targeted advertising and a much broader palette of personalized promotional techniques.
Ad targeting has already become a driving force behind monetization of live-streamed video services. And marketers are finding ever more ways to generate sales through interactive shopping videos, messaging overlays, purchasing or information-request prompts on second screens, and other methods.
But while personalized advertising and these other techniques are much more effectively applied utilizing IP technology than they were with legacy TV, they're encumbered by the need to operate in the traditional content delivery network (CDN) environment. Targeted ad placements are hard to execute, deter attempts to bring live-streaming latencies in line with broadcast latencies, and don't meet performance parameters advertisers are accustomed to with broadcast TV. Other approaches to personalized messaging are similarly hard to manage. And there's a whole realm of monetization opportunities associated with real-time interactive video streaming that is completely out of reach.
All these impediments to a next-generation approach to advertising and marketing in the live-streaming era go away when personalized advertising and other modes of messaging are executed on a multi-cloud experience delivery network (XDN) infrastructure. As developed by Red5 Pro, the XDN platform supports real-time streaming in any direction to any number of people worldwide with end-to-end latencies registering at 200 ms to 400 ms or even lower within smaller geographic areas.
An XDN infrastructure, as reflected in the capabilities introduced by Red5 Pro, does away with the client-based per-chunk calls and responses that have to be orchestrated across CDNs, manifest servers, server-side ad insertion (SSAI) platforms, ad servers, campaign management systems and other sources of messaging when adaptive bitrate (ABR) streaming is in play. Instead, executing targeted advertising and other personalized marketing modes in real-time synchronization with core content is intrinsic to how the XDN works.
The highly scalable multicloud XDN architecture uses real-time streaming protocols based on the Real-time Transport Protocol (RTP) employed in voice communications to deliver live payloads. In the majority of instances, the protocol of choice is WebRTC, which has client-side support for execution by all the leading browsers, including Chrome, Firefox, Safari, Edge, and Opera. There are no scaling limitations, as is the case with the multitude of video chat applications now operating in real time.  
All audio-visual (A/V) content, data, and ads are delivered in unbroken streams from origin servers to edge nodes, where servers leveraging intelligence about each user can combine and stream the different elements in perfectly synchronized per-session configurations. The multidirectional flexibility of this architecture can be applied so that whenever anyone at any moment of a streamed session chooses to deliver a video communication, that user's stream will be conveyed along with any marketing enhancements to everyone else. Whatever the use case might be, it doesn't matter whether a few or millions of users are engaged or where they are.
Critically, the implications of the real-time SSAI capabilities of the XDN aren't limited to situations calling for real-time video streaming. The simpler, virtually latency-free approach to personalizing ads and other promotional features could become a reason for moving ad-based live-streamed content to an XDN infrastructure even when the goal is simply to maintain broadcast-caliber latency with that content. Moreover, because the XDN supports one-to-many streaming in any direction from any session participant, it's now possible to implement these commercial applications on user-generated streams as well.
At the same time, live content providers seeking to heighten the appeal of their services already have plenty of reasons to move to real-time streaming over an XDN infrastructure. As explored at length in a previous white paper, there's an overarching need to find a way to make the virtual world of video experiences feel more real and more interactive.
This can be achieved provided that the streaming infrastructure meets three fundamental requirements: real-time latency, multidirectional streaming, and data synchronization. This is beyond the reach of HTTP-based CDN streaming.
Whether the use case involves watch parties, user-selected camera angles, virtual reality, or any myriad of other real-time applications, the new goal is to move beyond traditional streaming. For example, the watch party experience with sports, esports, and other live events is much better when all users can simultaneously receive content and respond in real time with the ability to deliver their comments via A/V streams from smartphones and computers rather than texting through chat apps. And, of course, the spoiler effect haunting efforts to live-stream sports and other events is a nonissue, even when people at a venue are communicating with viewers elsewhere.    
While personalized advertising is sure to remain the linchpin as advertisers move beyond the one-ad-fits-all TV tradition, a better way to think of campaigns designed to exploit the power of XDN infrastructure is summed up in the term real-time video commerce. Multiple approaches to selling products can now be harmonized in conjunction with real-time user experiences in innovative ways that once were impossible.
We'll take a deeper look at the monetization opportunities XDN technology brings to real-time as well as traditional live-streamed use cases in the pages that follow. The discussion will also explain the mechanics of XDN architecture and how implementation of personalized advertising and other messaging on that platform contrasts with the encumbrances encountered with traditional streaming.
These are early days in the transition to real-time interactive video streaming, although the maturation of XDN technology is taking the marketplace in that direction at an accelerating pace. XDNs can be instantiated by customers independently with Red5 Pro's help, or providers can take advantage of Red5 Pro's upcoming hosted XDN platform-as-a-service (PaaS), which, unlike shared CDN infrastructures, allows customers to configure infrastructure resources in siloed isolation from all others.
The addition of targeted advertising to the XDN application portfolio is part of the work undertaken by Red5 Pro and its partners to develop personalized use cases that rely on synchronized blending of auxiliary with primary content in real time. Many such applications are already in operation with many more to come.
_________________________________
THE GLOBAL SHIFT TO LIVE AND REAL-TIME STREAMING
There are multiple approaches to personalized marketing in the live-streaming domain that can benefit from execution in real time, including most prominently targeted advertising. The ability of XDN technology to operate interactively while eliminating the additional latency imposed by a traditional one-way streaming architecture is significant for all these marketing use cases, whether or not the core content use case requires real-time streaming. And, of course, these monetization opportunities are always available when content use cases specifically designed for real-time streaming are involved.  
Such considerations are becoming top of mind in efforts to maximize monetization of online video services and applications as a result of four trends that are surging in tandem worldwide:
Consumer demand for live-streamed content and for real-time, video-centric interactive experiences
The growing reliance on advertising over subscription revenues
The ad industry's embrace of addressable advertising
New modes of personalized marketing that can benefit from real-time video streaming and interactivity
Growing Demand for Live-Streamed Content
Currently, on-demand viewing generates the most traffic by a margin of two to one, but live streaming is destined to accelerate faster as traditional TV consumption transitions to OTT. Live-streamed video traffic, which accounted for 19% of global CDN video traffic in 2018, will surpass non-live traffic by 2024 with a 52.5% share of the total, according to Rethink Research.
This explosion is taking place in the context of the continuous rise in OTT subscriptions worldwide. Going into 2020, there were 461 million subscribers signed up for 714 million OTT service subscriptions globally, marking an increase of 86.6 million subscriptions and 37.1 million subscribers over the previous year, according to Digital TV Research.  By 2024 there will be 531.5 million subscribers accounting for 947.5 million subscriptions, representing an average of 1.78 subscriptions per subscriber, the researcher says.
The ever larger share of live traffic within this surging tide reflects consumer demand for sports, esports, news and other live content viewing options, many of which, such as niche sports and most esports competition, aren't available on TV. Sports channels along with other linear TV fare are now a routine component of virtual multichannel video programming distribution (MVPD) services, while dedicated sports league and esports packages offered directly to consumers have become mainstays of online viewing worldwide.
In one example of the traffic-driving power of sports, Q4 2019 regular season NFL games caused an average per-game increase of 4% in total global video traffic with some games pushing the global spikes to 29%, according to advertising metrics tracker Conviva.  In 2020, Fox, producer of the 2020 Super Bowl, said its average per-minute online viewer count hit 3.4 million, far outstripping previous Super Bowl averages.
Adding to the acceleration in live traffic, esports events have reached digital audience levels on par with traditional sports. In 2019, per-event viewership averaged 480 million, representing an 18% increase over the previous year, according to Futuresource Consulting. Total time spent by all viewers streaming esports worldwide came to 5 billion hours, which led Netflix to identify esports as a bigger source of competition for viewership than any of its SVOD competitors.
Live concert streaming, driven by the Covid pandemic, is likely to remain a mainstay in impresarios' strategies. Having taken pains to create the infrastructures that support event streaming, they can look forward to adding revenue from people who can't attend in person.
The Intensifying Real-Time Interactive Streaming Imperative
These developments have awakened content producers of every stripe to the need for a real-time interactive streaming infrastructure. For example, among sports producers there's widespread recognition that they must get better at eliminating the spoiler effect when online sports viewing experiences lag behind broadcast viewing.
Overcoming Latency Issues
With OTT latency averaging close to 40 seconds, broadcast latency in the 4- to 6-second range, the industry has a long way to go. The seriousness of the situation was reflected in two global surveys conducted by Bitmovin:
Latency   Content Playback   CDNs
————————————————-  
  55%                       50%                  36%
5 Seconds or Less   Less than 1 Second
——————————————————
            53%                                  30%
Just achieving the 5-second or less latency target preferred by 53% of the survey respondents has been a tough nut to crack, even for the biggest players in the market. For example, at the outset of 2018 the Amazon Thursday Night Football stream review rating was registering just 2.5 out of 5 stars, with many users reporting latency problems and buffering stalls. In 2019, as the Rugby World Cup was breaking that sport's streaming audience record, repeated freezes and rebufferings during one quarter finals game drew intense viewer outrage.
In 2020, Fox Sports put its considerable networking muscle behind ensuring a better Super Bowl streaming experience than the one it delivered in 2017, when a multi-CDN strategy failed to prevent an embarrassing fourth quarter crash. But while the overall quality of performance was rated as much better in 2020, broadcast-level latency proved to be out of reach with some streams running a full minute behind the broadcast feed.  
While concerns over latency have generated adaptive bitrate (ABR) streaming techniques like chunked transfer encoding (CTE) used with the Common Media Application Format (CMAF) to approximate broadcast latency, the results fall short of what's really needed. That's the case even when these efforts work, which, as reflected in the Fox instance, is not something producers can count on.
Social Drivers toward Real-Time Video Interactions
Broadcast-caliber latency might make sense in an environment where the audience is strictly in couch-potato mode, but the audience for live-streamed content is anything but passive. Social media has exploded with apps supporting watch parties with every type of streamed or broadcast TV content. And OTT content providers are setting up such apps as well.
Facebook's recently introduced "Watch Together" platform leverages its Messenger app to enable up to eight people to participate in chat and video-call interactions during shared viewing experiences. Others adopting similar watch-features, typically limited to eight or fewer people, include Amazon, HouseParty, Hulu, HBO Max, Sling TV, Twitch, and Disney+, although Disney's approach only allows user communications via emojis.
New watch-party apps devoted to viewing live sports and esports are cropping up as well. In one case in point, Yahoo Sports added a watch-party feature to its mobile app in conjunction with the start of the 2020 NFL season. The app allows up to four people to livestream a game at no charge while participating in a video chat.
Live watch-party apps have also been set up by various entities working with the NBA, soccer leagues, and other sports. And shared viewing of esports with support for text chat has become a feature in many providers' offerings.
These are rudimentary approaches to what's needed, made all the more unsatisfactory by the fact that people aren't seeing what's happening at the same time. People's comments about what they just saw are meaningless to those who haven't seen it yet. In fact, today's watch parties are actually spreaders of the spoiler effect.
Many things need to change before watch parties can deliver satisfactory experiences. Not only are they limited by the inconsistent event viewing experiences caused by different per-stream latencies; they all are encumbered by poor video and audio quality on the interactive streams and the limits they impose on the number of watch-party participants. Watch parties will take on a new level of enjoyment when everyone is viewing the action simultaneously and can communicate via video in real time.
More broadly, the increasingly video-centric nature of social media experiences is pulling the market toward real-time video interactivity. For example, ever more activity is centered on community engagement with user-generated content (UGC) on Facebook Live and Instagram Live. Shared experiences with UGC shape the business model for the HouseParty social networking service and have been the force behind the rapid ascendancy of TikTok into the top social media tier.
In this arena as with watch parties, out-of-sync discrepancies in user experience caused by annoying streaming delays will disappear when everyone is able to interact in real time. And the same considerations apply to many other types of consumer use cases.
Other Major Real-Time Imperatives
For example, online engagement with game playing has become a social experience in its own right, starting with participation in multiplayer gaming and extending to social groups that have formed around various gaming platforms to comment on esports and gameplaying by popular streamers and to share each other's gaming performances. According to one researcher, 43% of online gamers worldwide play at least one game monthly with others, while about 20% also do at least one of the following: watch a live gaming stream, watch an esport competition, or share an image or video of their own game play.
Multiplayer engagement is expanding to include fast-action virtual reality (VR) games and immersive social environments where users' avatars compete and vie for attention. Moving support for these activities into the mainstream networking environment will allow not just gaming, but everything else tied to live interaction with VR.
Network support for experiences with VR poses stiff challenges that can't be met with conventional streaming. Real-time streaming at sub-half-second latencies is essential to enabling instantaneous refreshments of the VR headset wearer's on-screen field of view (FOV) with every turn of the head or shift in gaze when headset sensors are tracking eye movement. And real-time streaming is instrumental to the techniques that have been devised to minimize bandwidth consumed by those FOV flows.
Real-time streaming also comes into play with artificial and mixed reality use cases as well as immersive and non-immersive 360o viewing options with sports and other live-event programming. Notably, such applications are often cited as a major opportunity driving deployment of 5G networks. Even then, as explained in our "Mass rollouts of 5G networks" white paper, the Internet streaming component with use of 5G will require XDN-caliber support.
Online gambling, too, is starting to incorporate real-time streaming. Casino-type gambling involves remotely located players that need to interact with dealers in real time. Sports betting takes on new dimensions with micro-betting that allows people watching an event unfold in real time to bet in advance on what might happen next.
In the case of the multiple types of traditional auctions that are moving online, real-time streaming and interactions between auctioneers and bidders are essential. And, in the individual selling and bidding space, live auction apps that are gaining traction with individual sellers would be better served if those auctions could be conducted in real time.
_________________________________
DISRUPTIVE SHIFTS IN ADVERTISING WITH HIGH-VALUE VIDEO CONTENT
All of these trends have important implications for what happens next in the evolution of advertising tied to high-value content. Currently, as the share of OTT traffic going to live and real-time streaming increases, the share of OTT revenue attributable to advertising is increasing as well.
The Growing Role of Advertising in OTT Monetization
Digital TV Research predicts ad revenue generated by OTT video services worldwide will grow 120% from 2019 to 2025, reaching $53.2 billion or about 32% of total revenue. This compares to a 103% projected growth rate for subscription revenue that's projected to hit $97.5 billion by 2025.
Advertising support for OTT services has become a major component of hybrid monetization strategies among AVOD and direct-to-consumer (DTC) service providers, including most of the prominent new entrants. Here the goal has been to lower rather than do away with the reliance on subscription fees.
In addition, there's a growing class of free ad-supported streaming TV (FAST) services contributing to the ad trends, such as Crackle, the Roku Channel, Viacom's Pluto TV, Fox's Tubi and Comcast's Xumo. In the United States, 25% of broadband TV households now use FAST services, according to Parks Associates.
The growing dependence on advertising can be attributed to the maturing of the subscription market and consumers' reluctance to keep spending more for new services. But there's also a big buy-side demand factor in play.
TV advertisers, facing diminishing returns from traditional linear TV advertising, are feeling greater urgency than ever to reach OTT audiences. Comcast's advertising support firm FreeWheel, in a recent survey of more than 200 advertisers and agencies, found that 52% of agencies were buying from OTT TV as well as traditional TV inventory in 2019 and 91% planned to do so by 2021.
The availability of live content is impacting the amount of traditional TV viewing time going to OTT viewing, especially on connected TV sets, including smart TVs and other sets linked to the Internet via separate devices. According to the advertising metrics firm Conviva, as of Q3 2020 65% of OTT long-form video viewing time worldwide occurred on CTV screens as opposed to 10% on PCs, 10% on mobile, and 5% on tablets. In the United States, Nielsen reported Q2 2020 metrics showing streaming was consuming 25% of all TV minutes viewed, averaging in non-OTT as well as OTT subscribers.
The impact of live OTT content on viewing habits is especially significant to advertisers. According to the Conviva report, at 24.41 minutes per average view, the time spent viewing live-streamed content is 27% higher than average time spent viewing an on-demand stream.
Seizing the Personalized Advertising Opportunity
Another major driver behind the OTT shift to advertising is marketers' demand for personalized advertising opportunities. With unicast delivery of streamed video, dynamic insertion of ads based on geographic, demographic, or more personalized profiles is easier to execute and scale than was ever the case in TV advertising.  
Rethink Research recently reported that spending on addressable advertising across all TV platforms worldwide reached $15.6 billion in 2019 and projected it would top $85.5 billion by 2025, largely driven by dynamic ad insertion (DAI) online. Indeed, the move to addressability online is outpacing the growth in conventional TV advertising by large margins, according to FreeWheel.
In the United States, addressable ad buying accounted for 6.25% of the ad campaigns on streamed TV programs in 2020, representing a 50% year-to-year increase compared to 20% growth in traditional TV ad sales, FreeWheel said in the previously cited report. In Europe, the targeted campaign growth rate hit 56% with targeting accounting for 25% of streamed TV ad campaigns.
The pace of growth in addressable TV advertising online reflects consensus among agencies and their clients that the higher returns on ad investment are well worth the costs, including paying higher cost per mill (CPM) rates. According to a survey conducted by the Video Advertising Bureau, 71% of surveyed buyers said they were willing to pay higher CPMs with targeted placements.
Limitations Imposed by Conventional Streaming
Clearly, addressable advertising presents a major monetization opportunity, provided that the processes employed meet advertisers expectations for broadcast-quality performance. The question is, what's the best approach to doing this in the increasingly latency-sensitive live-streaming environment? And how can it be done when real-time streaming is involved?
One aspect to these questions — namely, whether edge-positioned server-side ad insertion (SSAI) or client-side browser- and plugin-based DAI works best — has been answered with the market embrace of SSAI. In part, this is because of the susceptibility of client-side DAI to ad blockers, which are a non-issue with server-side insertions.
In addition, SSAI has proved to be better at minimizing, though not entirely overcoming, latency and inaccurate placement issues associated with client-side DAI. Moreover, many SSAI systems are designed to tap the resource elasticity and hence scalability that comes with orchestrating operations among edge servers, ad servers and other components in the cloud.
But when SSAI is used with HTTP-based CDNs, results fall short of the performance required with latency-sensitive live-streamed content. That's because the approach relies on manifest manipulation used with ABR streaming to ensure each client calls for the right ad for delivery from remote ad servers for insertion at CDN edge points. This leads to costly placement misses and adds, at a minimum, several seconds and often much more to stream latency.
The scope of the problem is reflected in statistics that show HTTP-based ad performance, regardless of whether or not DAI is involved, falls far short of the long-established norms in legacy TV advertising. In early 2020, Conviva's report tracking in-stream OTT video advertising worldwide across all viewing platforms in Q4 2019 revealed that ads failed to play as intended at least once in 36.5% of the viewing sessions. Most of these failures involved long buffering delays but also included complete misses stemming from mismatches in formatting or errors in ad selection.
Subsequent Conviva reports have shown better but still far from ideal performance. Moreover, there's a growing problem impacting latency caused by mismatches between the personalized ads delivered by ad servers and the ad breaks they are meant to fill.
While default modes in ABR-based SSAI operations assume ad servers will return ads perfectly fitted to the break window, that's frequently not the case owing to the difficulties of maintaining accuracy in the fast-paced live-streaming environment. As long as there is unfilled ad space in ad breaks, no matter how short, and there are ads available for clients to call from servers, the system will insert an ad, adding tens of seconds of unexpected latency.
Moreover, added latency is introduced when multiple ad servers are involved, as is often the case, especially in programmatic ad operations. It can take many seconds before a client manifest directs the call to the right ad server.
Introducing a Much Better Approach
These issues are of far less concern when real-time SSAI enabled with XDN technology is employed. Ads, just like core content, are live streamed, in this case from ad servers to XDN edge servers (see "How XDN Technology Enables Personalized Marketing"). A group of personalized ads scheduled for a slot in an ad break can be streamed in real time just prior to the ad break for brief caching at each edge node, where they can be inserted in precise sync with the streams as they are unicast to each user.
Because any participant in a viewing session can be enabled to stream content to participants anywhere, the SSAI capabilities of the XDN can be applied to insert ads on those streams as well as the core content streams. Ads can also be shaped to communicate messages tied to a specific group use case, such as watch parties where, for example, all participants can be invited to join the producer's next event.
Before exploring the mechanics in greater detail, it's important to understand the other aspects of monetization beyond targeted advertising that stand to benefit from real-time interactive video streaming at mass scales.
_________________________________
THE RAPIDLY EXPANDING ECOMMERCE ARENA FOR REAL-TIME VIDEO
One of the fastest-growing use cases along these lines involves interactive live-stream video shopping. Often likened to traditional TV shopping channels like QVC but with the added benefit of direct interactivity, live-stream shopping typically involves live broadcasts of pitches by presenters, sometimes celebrity hosts, selling cosmetics, apparel, electronics, cars, and other items. The underlying platforms support direct in-video purchasing options and chat links that presenters can respond to live as part of the broadcast.
Livestream Shopping
Livestream shopping first took off in China, where the the sales take in 2020 was estimated to have hit $150 billion compared to $65 billion in 2019, which, according to another estimate, represented 9% of total ecommerce that year. But now the phenomenon is accelerating worldwide amid the persistent Covid pandemic.
For example, in the United States, major players are mounting cloud-based livestream shopping platforms, including Instagram Shopping Live, Amazon Live, Facebook Shops, and Google Shoploop, as startups like Popshop Live, TalkShopLive, Packagd, Very Very Shopping Network, and many more pursue a wide range of innovative approaches, often with a fun-loving, youth-oriented slant.
The existence of these platforms and the fact that sellers and buyers are acclimating to livestream shopping as an alternative to traditional ecommerce appear to ensure the new trend will endure and grow. But livestream shopping as it is supported by most platforms today still has a long way to go to better emulate the in-store shopping experience.
The obvious next step is to enable a synchronized real-time viewing experience on the part of shoppers. This eliminates the disparate multisecond latencies that conventional one-way streaming injects into the interactive communications between presenters and audiences.
Equally if not more important, real-time synchronization of viewing experiences paired with the ability to stream video interactively from any direction to any number of people in real time enables interactions with the presenters where viewers' questions selected for airing can be posed via video rather than chat alone. Marketers who choose this approach have the advantage of drawing the higher engagement that occurs when viewers know they have an opportunity to be seen during the presentation.
One example of this approach can be found at the startup Whatnot, which operates a platform that enables its community to connect and interact in real time to buy and sell just about anything. The startup's stated aim is to bring people together, individually or as part of existing communities with shared interests and hobbies, by making it easy and safe to connect, buy, and sell. Some Whatnot sellers are small businesses, but over 90% are people who sell items as a hobby or side-hustle.
Multiple Approaches to Personalized Messaging
Real-time interactive streaming supported by XDN technology is enabling many other new approaches to advancing marketing agendas. One involves just-in-time placements of overlay streams bearing marketing messages with core content.
Overlays and In-Stream Displays
As in the case of targeted ads, the overlays, which can be produced by independent entities in partnership with core content providers, are applied at XDN edge nodes with each unicast stream. They can be positioned anywhere on viewers' displays to deliver any combination of text, graphic, or video messaging.
The placement may be on an overlayed strip at the bottom or elsewhere on the screen, or it can be implemented as a standalone element within the video frames. It might appear in a small video window or as a text message floating over the scene. Or it might be an ad placed in a location designated in production for such messaging, such as a sign on a fence at the ballpark or a billboard along a NASCAR track.  
A Better Approach to Second-Screen Marketing
On another track, XDN technology is creating a new, greatly simplified approach to second-screen marketing strategies to enable user interactions with anything promoted for sale in a video stream. The technique can be applied with a full-screen ad, an overlay or products such as clothing or cars that are part of the core video.
This eliminates the complicated traditional second-screen app approaches that rely on audio or text fingerprints or other types of coding embedded in the content to identify the content a user's smartphone app is pointing to. In those cases, an app captures the code and conveys it to remote storage where the code is paired with the content on view, thereby enabling delivery of messaging related to that content element to the phone.  
In all cases, users are alerted to the presence of a purchase or information-gathering opportunity by some graphic or other signal embedded in the core video. But when a second-screen marketing app is designed for use in this new XDN-based approach, the app knows immediately what the phone is looking at by simply reading an invisible code inserted into each stream at the edge node. Because XDN node intelligence knows both the identity of the user and the content on view, once the app sees the invisible mark it's able to trigger immediately a marketing response directed to the user's phone.
_________________________________
HOW XDN TECHNOLOGY ENABLES
PERSONALIZED MARKETING
The possibilities are virtually endless when it comes to embellishing user experiences with personalized messaging in the XDN streaming environment. A brief overview of the XDN architecture makes clear why this is the case.
The Multidirectional Real-Time Streaming Architecture
The Red5 Pro XDN platform consists of a server software stack deployed in a hierarchy organized in three-tiered clusters across one or more private or public cloud environments (fig. 1). Each cluster consists of one or more origin nodes where encoded content is ingested and streamed to relay nodes, each of which serves an array of edge nodes that deliver live unicast streams to their assigned service areas. All nodes can be deployed on low-power consuming virtual machines anywhere in the world to deliver real-time experiences with video simultaneously at any distance to any number of clients, from one to millions.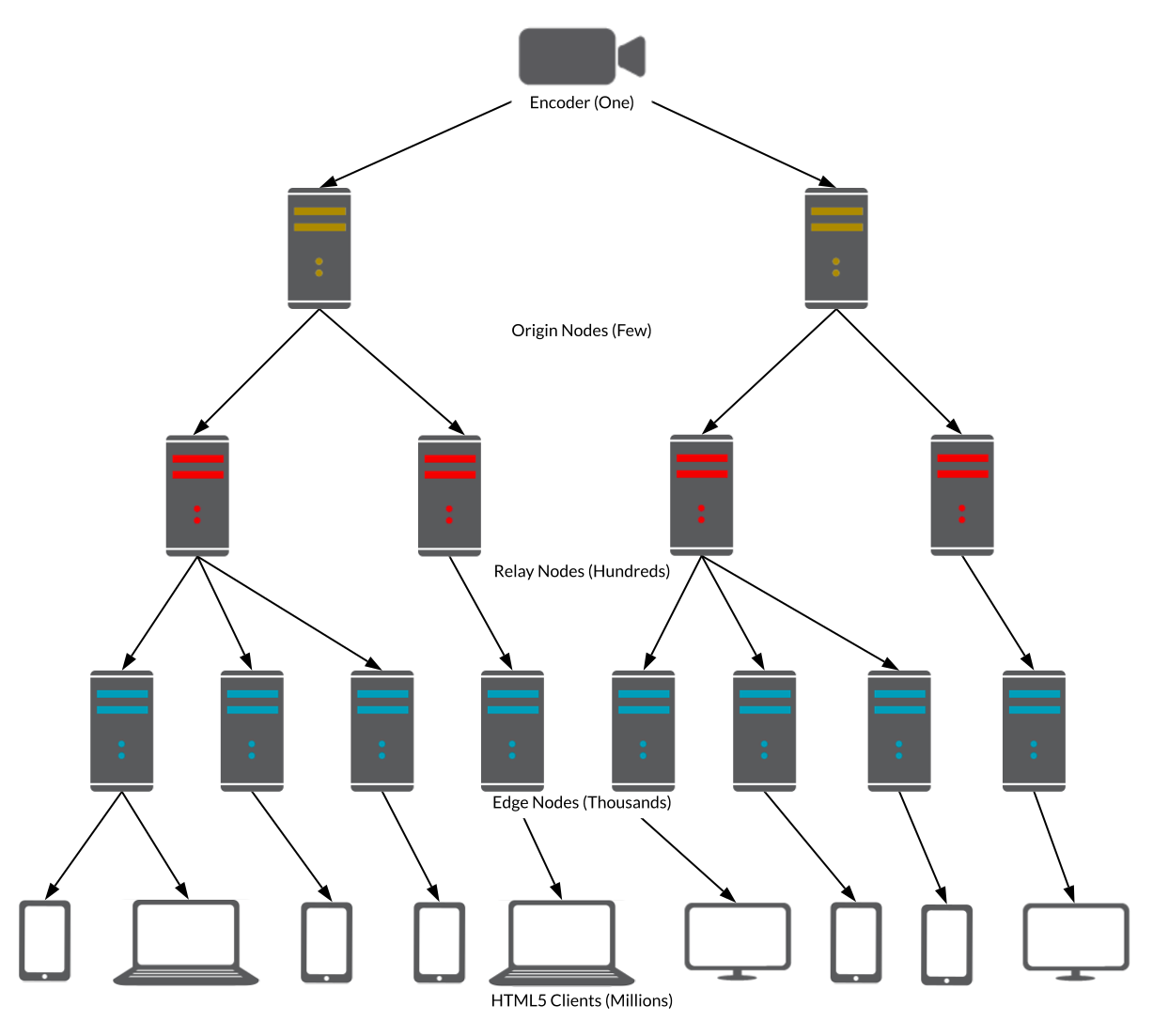 Figure 1. A Red5 Pro cluster can be deployed on a cloud platform to support millions of users while guaranteeing sub-500 milliseconds end-to-end latency.‌‌
To achieve real-time streaming, Red5 Pro uses the Real-time Transport Protocol (RTP), the foundation for IP-based telephony, in conjunction with the User Datagram Protocol (UDP) with no scaling limitations and no dropped-packet impediments to smooth streaming flows. To avoid any perceptible impact of packet losses associated with UDP, which TCP was designed to overcome, Red5 Pro employs a well-designed implementation of negative-acknowledgement (NACK) messaging, which uses advanced iterations of forward error correction (FEC) and other mechanisms to replace essential dropped packets.
With this transport foundation, the platform is designed to use streaming modes optimized for either mobile or fixed access scenarios on a session-by-session basis. In the case of fixed network connectivity, it leverages Red5 Pro's ability to massively scale distribution via WebRTC. This is a real-time streaming protocol that eliminates the need for plug-ins or purpose-built hardware by virtue of the support for client interactions provided by all the major browsers: Chrome, Edge, Firefox, Safari, and Opera.
To stream content for access on mobile devices, Red5 Pro employs theReal-Time Streaming Protocol (RTSP). Like WebRTC, RTSP relies on RTP but exploits the client-server architecture employed in mobile communications, eliminating the need for browser support.
Red5 Pro leverages these protocols' mandatory support for utilization of the Secure Real-time Transport Protocol (SRTP) to protect audio and video channels with AES encryption. This obviates spending on DRM services in instances where DRM requirements aren't baked into licensing agreements.
Along with ingesting any content delivered via WebRTC or RTSP, the XDN can ingest video formatted to all the other leading protocols used with video playout, including Real-Time Messaging Protocol (RTMP), Secure Reliable Transport (SRT), MPEG-TS (Transport Protocol), and HTTP Live Streaming (HLS). These are packaged for streaming on the RTP foundation with preservation of the original encapsulations for egress to clients that can't be reached via WebRTC or RTSP.
XDN comports with the requirements ABR was designed for by preserving distribution in the multi-profile configurations of an ABR ladder. The XDN can do this with ingestion of those profiles from an external transcoder or by using transcoding positioned with XDN origin servers to play out content ingested as a single profile in the multiple profiles used with ABR. Edge nodes choose which profile to use with each unicast stream based on the platform's intelligence related to devices in use and bandwidth availability.
Multicloud Scaling
Set-up configurations and ongoing orchestration of all the nodes across the XDN are performed by the platform's stream manager. The stream manager works in real time as it processes live-stream information, applying automated scaling mechanisms to add or remove server nodes in response to fluctuations in traffic demand or the need to add new broadcasters and end users (fig. 2).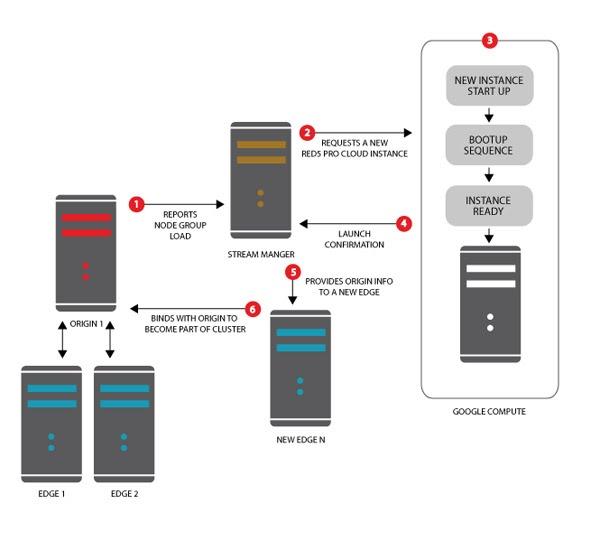 Figure 2. An example of how the Stream Manager spins up and provisions a new instance to add an Edge node to an existing cluster.
The stream manager's autoscaling mechanism, which uses Red5 Pro platform controllers designed to work with each provider's APIs, also supports the cluster-wide redundancy that's essential to fail-safe operations. With persistent performance monitoring of all engaged infrastructure-as-a-service (IaaS) providers, the Red5 Pro platform can instantaneously shift processing from a malfunctioning component within a node to another appliance in that node, or, in the event of the entire node going offline, move the processing to another node with no disruption to the flow or increase in latency.
These capabilities also apply to XDN-wide load balancing. By translating its commands to the API calls of the cloud operators, the XDN operations system is able to execute the load balancing essential to persistent high performance across the entire infrastructure without manual intervention.
XDN cross-cloud operations are enabled by pre-integrations with AWS, Microsoft Azure, and Google Cloud Platform as well as interactions with any other cloud facilities that are tied into the XDN via the widely used Terraform open-source multicloud tools provided by Hashicorp. Terraform facilitates cross-cloud instantiations by translating IaaS resources into a high-level configuration syntax that allows IaaS APIs to be abstracted for access through a Terraform Cloud API specific to each cloud operator.
By leveraging those APIs, the XDN can manage any combination of contractually available Terraform-compatible IaaS resources as holistically integrated components of the live-streaming infrastructure. In addition, the Red5 Pro stream manager can be manually integrated to work with the APIs of any cloud provider that isn't integrated with Terraform.  
_________________________________
CONCLUSION
Red5 Pro's XDN infrastructure opens a new world of marketing possibilities. It does so through multicloud node orchestration, multidirectional real-time streaming, and support for multiple types of core and ancillary content streams in conjunction with the ability of edge nodes to configure personalized combinations of simultaneously delivered content for unicast distribution to end users.
XDNs can be scaled to stream video end to end at sub-half-second latencies to any number of users worldwide. It can do this with streams that originate from any source, including any session participant.
Content and application providers can work with Red5 Pro to build an XDN precisely configured for their needs. Or they can leverage the hosted XDN PaaS to orchestrate their use cases in complete isolation from all other users.
The marketing opportunities that arise from these capabilities include:
SSAI-based personalized advertising
Advertising tailored on a group basis for participants in watch parties and other social engagement
Implementation of marketing messages with user-generated content
Personalized messaging overlays with live content streamed in real time
Video-rich interactivity with live-shopping streams
Marketing tied to second-screen viewing
Anything else marketers can conceive of as a means of engaging personally in real time with every participant in any given use case.
The XDN capabilities have been widely validated by developers and service providers across a rapidly expanding ecosystem of commercial use cases. One case in point involves the multiple personalized overlay applications delivered by graphics tech platform supplier Singular.
"From what we've seen, Red5 Pro is the most robust, scalable enterprise," says Andrew Heimbold, president of integrator Reality Check Solutions, which is closely affiliated with Singular. "And they've been great to work with."
Marc Todd, CEO and founder of Skreens, echoes the sentiment as an XDN user who specializes in live content curation with cloud technology to enable browser-based access to broadcast-caliber production mechanisms that support just about any video-rich application. "Our service covers how you shape the video, enable people to comment on it, as well as produce the whole show," Todd says. "There are many use cases where you need live interactivity with high-quality video. Any time that's the case, you need the XDN."
Logan Head, cofounder and CTO of the previously referenced real-time interactive video shopping platform Whatnot, explains what XDN means to such applications. "We built Whatnot not just to enable transactions but to capture the fun of the in-person experience, so our communities can connect in real-time and geek out with their favorite sellers," Head says. "Whatnot would not be in the place it is today without Red5. Not only is their technology great; their team is A++.