Over the past year, Red5 Pro has been developing watch party software that allows users to join a group video call while watching their favorite show, sports team, or movie. If you've missed it, this means no more juggling Zoom calls in one tab and Netflix in another while trying to press play on a film at the exact moment as your friends. The Watch Party software enables these interactions to happen in real time, all on one screen.
We have made a lot of changes since our last post, where we discussed how to add facial detection and dynamic overlays to the watch party. We are particularly excited to announce that AMD and Oracle are now sponsoring the watch party project as they see the potential in this great new product. Keep reading for additional updates and to learn about what we are creating behind the scenes.
Open Source
It's official – the watch party software will remain an open-source project. The earliest versions of the watch party were made public on GitHub from the start, but we may be changing the location of future watch party releases. We will share more information once the first official release goes live. The project is built out in React Native and will be open to contributions from the public.
New Design
The updated watch party has an all-new design, complete with the main program and up to 9 possible viewers. The HTML app also includes text chat features and the ability to add quizzes and polls during the broadcast.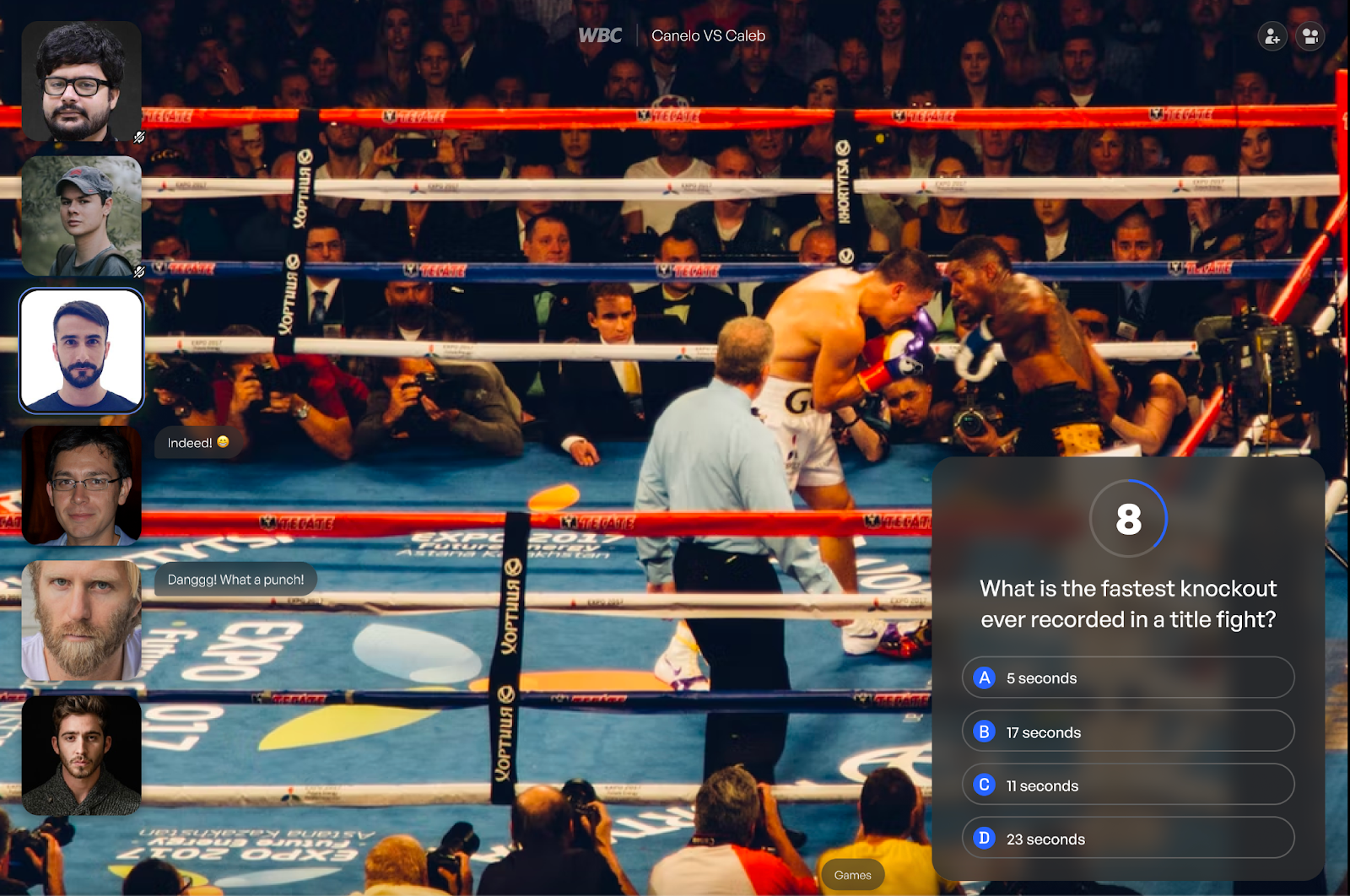 New Features
Alongside the watch party, our team is also developing a new Conference API. Though this API will be utilized in the watch party project, it will extend beyond the watch party as well. In the future, this API will be available as part of the Red5 Pro server.
When Can I See It?
The new watch party software will be showcased in October as part of an exciting project with Oracle, VIVE Network, and the World Boxing Council (WBC). This event will allow fans to start watch party groups with their friends to keep up with each round of the tournament. Fans can have a total of 8 people in their party, with a chance of having a surprise boxer join their call. We will post an announcement with more details about accessing this event as the date gets closer.
The watch party will be deployed to Oracle Cloud Infrastructure in multiple regions. This October's boxing event will be open to 50,000 participants, although the watch party technology supports an unlimited number of concurrent viewers.
Red5 Pro projects that we'll be hosting 300,000 viewers on the watch party software within a year. To help achieve this goal and beyond, mobile versions of the software are also on the roadmap. We anticipate that watch parties such as this boxing event will be a heavy draw for sponsors, who will be able to advertise within the platform. This is an exciting new revenue opportunity for broadcasters of all types.
Red5 Pro's watch party software is changing the game. If this project sounds exciting to you, feel free to contact us for more information at info@red5pro.com, or schedule a call.